Bad content can kill your brand. We hear a common problem that 'we are unable to rank the blogs', 'we are not getting any traffic in our blogs', etc. in this business.
Content creation is the most popular and easiest way to brand your business. Yet, sometimes, it's become difficult to market your content.
Content plays an important role in inbound marketing. A HubSpot survey says that 70% of businesses are investing in content marketing in 2020. The three ways of inbound marketing are to attract, engage, delight the target audience. Hence, content creation plays the role of catalyst in this process.
Sometimes content creating for inbound marketing can go astray.
When your content is not customer-oriented, keyword-rich, and well-researched, you may face problems with your inbound marketing efforts.
Here are five tips on content creating to boost your inbound marketing efforts:
Five content tips to boost your inbound marketing
There are no hard and fast content tips to have a results-driven inbound marketing effort. Content strategies always depend on your target audience and business goals. We have shortlisted some primary content tips to gear your inbound marketing efforts based on our expertise.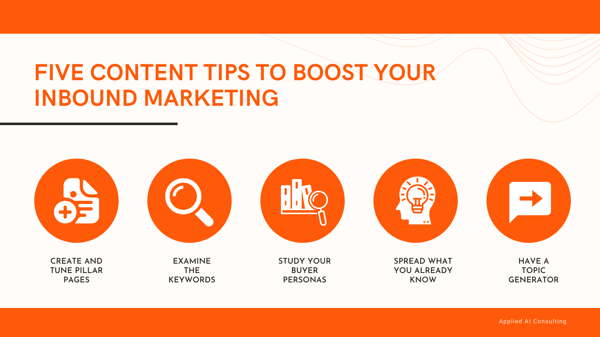 1. Create and tune pillar pages
A pillar page is the master page that plays the role of gateway to all your content. It is usually longer than blogs. Also, it offers comprehensive yet general information on every aspect of your products and services. This page provides an opportunity to get more information about a topic through various links to child blogs.
With a pillar page you can:
Create rich information on a single subject that is easy to rank on Google.
One page of concentrated information offers in-depth information with links.
With keyword targeting linking, you can enhance the traffic of your pillage page.
2. Examine the keywords
If you already have content ideas in your mind, it's better to examine the keywords. You need to find the keywords you are considering have the highest search volume with the lowest competition.
Keywords are competitive and it's difficult to get content ranked for high competitive keywords. Hence, businesses prefer to rank their content with the keywords having the highest search volume and less competitive.
For example, the below image depicts the monthly search volume of a keyword along with the competition.
The keyword 'using social media for business' has 390 monthly search volume but the competition is high.
If we use the keyword 'how to use social media' having high search volume with medium competitions, it will be easy to rank the same on the search engines for your business.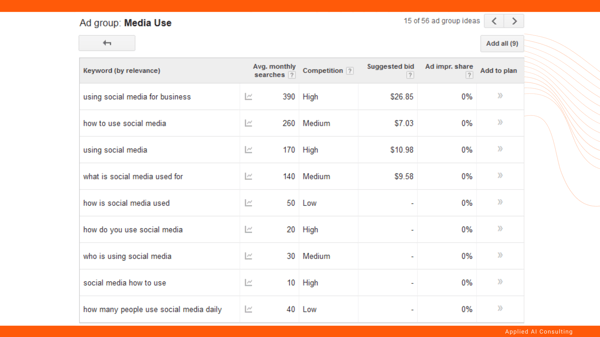 So, after finalizing the keywords you can create content around the same. Taking care of keyword density is essential. Additionally, long-tail keywords are the best. The long-tail keyword comprises three to four keywords specific to your business or brands.
The long-tail keyword is a specific search phrase used by audiences. As shown in the image, 'how to use social media' is a long-tail keyword as it comprises 3 keyword phrases like 'how', 'use', and 'social media'.
We at AAIC, enable you to examine the keywords with a word cloud feature. It helps to find the relevant keywords with ease.
3. Study your buyer personas
Getting started with content is not difficult if you already know your buyer personas.
According to Hubspot, buyer persona means 'fictional, generalized representations of your ideal customers'.
If you can find out who they are and what their pain areas; you can create meaningful content to engage with them. Additionally, if you can find what kind of content they read, you can build content catering to their hyper-specific needs.
You need to do market research to find the strongest buyer personas. Also, you can gather insights through interviews and surveys from your existing customer base. You can have one, two, or more than twenty buyer personas relying on your business.
Download Hubspot's guide to creating buyer personas here
You can also use LinkedIn to study your ideal target audience and create buyer personas based on the findings.
4. Spread what you already know
Whether you are blogging, writing a novel, or creating a content offer, writing what you know is always the best way to create engaging content.
Educating your audience is a proven content creation strategy to boost inbound marketing. If your business serves via the B2B model, you can write about how your products and services can solve problems of your target industry.
For example, the 'cost' is a major issue amongst the businesses and if you help them to reduce their cost with your solutions, it will be your maximum lead-generating content. The prime motive is to create truthful, meaningful, and honest content to engage and retain your target audience.
5. Have a topic generator
When you struggle to think about innovative content ideas, topic generators come handy. They are AI-based marketing campaigning tools, products or bots string the most trending topic ideas based on your keywords, topics, and questions.
The ideas they generate are not interesting sometimes, yet, you can twist them as per needs. It is a good way to start with. Let's see how our AI-based marketing campaigning tool, Marxeed work to boost your marketing efforts:
Type your topic, select the targeted country, click on Make Magic Happen.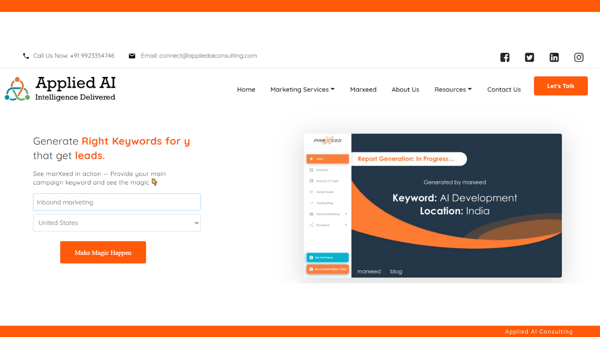 Marxeed generates a detailed report with details like keywords, accounts to target, content cluster, etc.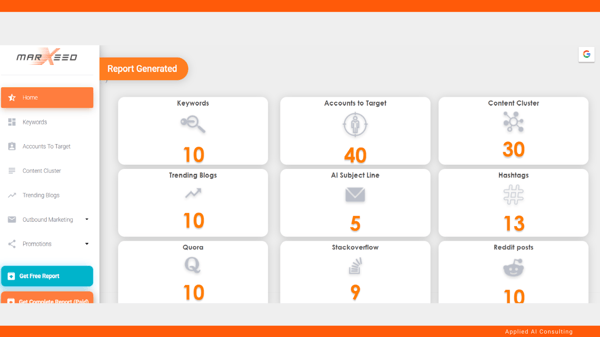 You can click on the Trending Blogs to see the top blogs and topics.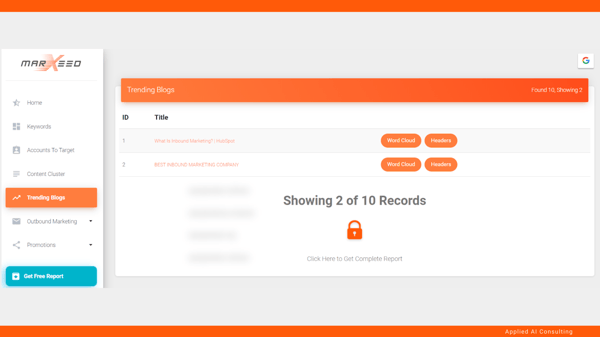 Good quality content is time-bound
Good quality is a fate-deciding factor of engaging content. But time is a result-driven factor to research topic-wise keywords, research potential blog topics, write, edit, and refine every piece of content.
We expect that these five tips on content creation helped to clear writer's block.
High-quality content creation is indispensable for high-performing inbound marketing strategy. Often it can be frustrating but qualified leads are paybacks. If you are struggling with engaging content creation let us know.
Get in touch with us for a result-driven AI-powered content marketing service.
About Applied AI Consulting
At AAIC, we help organizations get engaged with their customers with AI-powered quality content marketing services crafted to convert. We at Applied AI Consulting love processes, automation, and checklists. We are marketers who are still engineers at heart and approach digital marketing in the same way-the engineer's way - 'Make it lean, focused, efficient, and affordable'. For us, digital marketing is a combination of 'Art, Science, Psychology, and Engineering'.