Did you know 72% of marketers believe that content marketing increases engagement and brings new leads? And 95% of people go for the first page links in any search engine.
These are some interesting stats about content marketing. However, content is more than this. The right content builds your brand and helps your audiences to heal their pain points. Content is not limited to blogging. Your landing pages, website content, social media campaigns, emails, and press releases; all come under the umbrella of content. Creating meaningful and simple content is important to attract your audience.
The market expert like Hubspot says that if you are creating 40% content, you should promote and distribute the same with 60% effort. Hence, content marketing is a basic business need.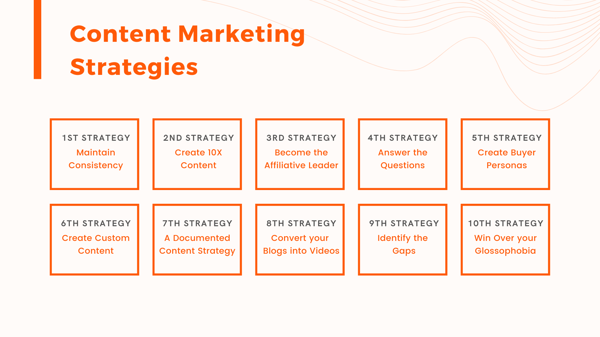 Here are the top ten content marketing strategies your business should adopt today:
1st Strategy: Maintain Consistency
Mckinsey & Company says that the 3Cs of client satisfaction are ''consistency, consistency, and consistency''. You need to dedicate sufficient time to content creation. Content powers web marketing. Companies can create their own blogs and promote them via social media marketing. Guest blogging also helps to reach a bigger audience in the top publishing sites.
2nd Strategy: Create 10X Content
Search engines love original and interesting content. If you promote originally written content, the search engine takes no time to rank it high. And interesting content with captivating introductions engages more audiences. However, with stiff competition, Google Panda has changed its algorithm to promote 10X content. The idea of 10X content is to offer good user experience, details, high-quality sources along with offering original content.
3rd Strategy: Become the Affiliative Leader
Writing for business is concrete, not abstract. Make your content valuable and unique. Share tips and ideas in your content. And support those ideas with statistics and data. Create unique and useful content that your audience doesn't need to find them anywhere else. Study the leaders in your business verticals and what they do. Competitors' analysis is crucial to becoming a thought leader.
4th Strategy: Answer the Questions
Your content strategy shares a lifeline with your business goals. While deciding the blog topics, do you consider the pain areas of your audience?
In the book, 'They Ask You Answer: A Revolutionary Approach to Inbound Sales, Content Marketing, and Today's Digital Consumer' by Marcus Sheridan; the author advises knowing the pain areas of your audiences and answers them by posting relevant blogs. This is a revolutionary book for all content marketers with a ground-breaking strategy. Address the questions asked by your audiences with blogging.
5th Strategy: Create Buyer Personas
Find the ideal readers of your blogs. You can describe them to mold the content in a better way. Customer avatars are the buyer personas. Buyer personas include clients' pain points, challenges, information sources, and behavioral motivators. When you create buyer personas, you will get to know:
What kind of content gets responses from your audience?
How will the content help them?
How to make the content more engaging?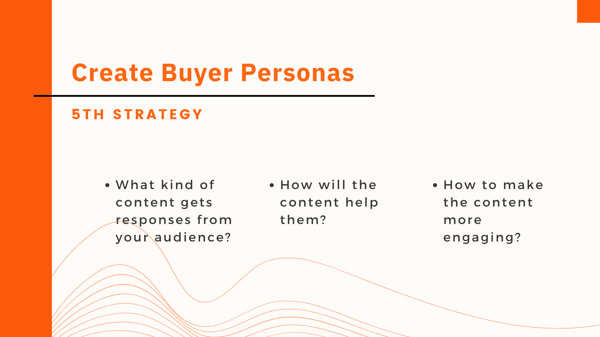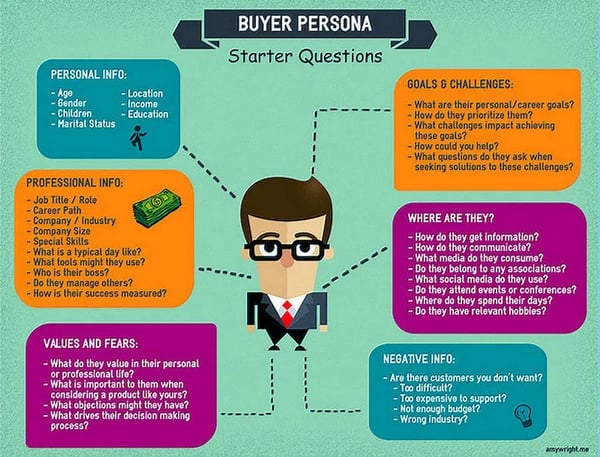 6th Strategy: Create Custom Content
If you want to nurture your existing customers, creating custom content is a proven strategy. Custom content influences the buying decision of 61% of consumers. Custom content simplifies complex pain points of your customers. If you have diverse audiences, you should create custom content. Relevant content attracts good quality and the right audiences. For example, writing healthcare blogs for healthcare customers and fitness blogs for fitness customers.
If you are getting blog comments, monitor them to find what are the custom content subjects your audiences want to hear. It helps you to plan your next content strategy with a more proven technique. And 78% of CMOs believe that custom content is the future of content marketing.
7th Strategy: A Documented Content Strategy
Document all your strategies with actionable steps to produce predictable results. Such documentation saves your time from reinventing the strategy every day. For example, you can document various content creating phases like ideation, creation, approval, publishing, and marketing along with team roles and responsibilities.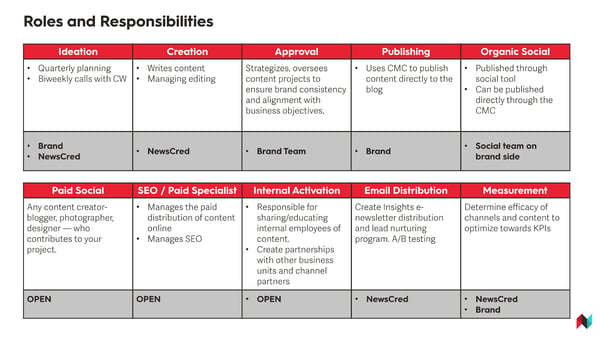 Image Courtesy: insights.newscred.com
Moreover, such insight-rich documentation gives you a more measuring approach. A study says that 48% of B2B marketers follow a documented content strategy.
8th Strategy: Convert your Blogs into Videos
Video blogging is a proven strategy to promote your content. Convert your top-performing blogs into interesting videos with intriguing scripts. People are in a hurry and often they don't have time to read a whole blog. Hence, offering a blog via crisp script and interesting visuals attract audiences faster than a long written blog. 51% of global marketing professionals believe that video brings the best ROI. Businesses that use video can grow revenue 49% quicker than the others.
9th Strategy: Identify the Gaps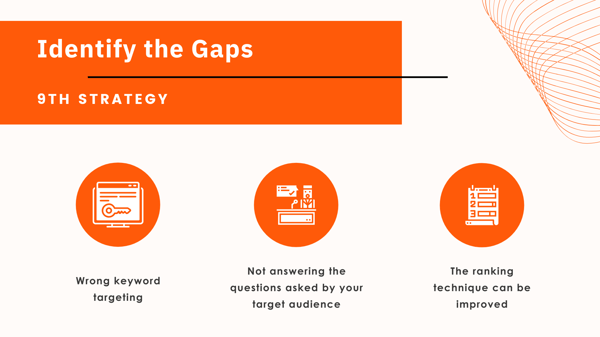 Sometimes we create good quality content and leave no stone un-turned to promote the same. Still, we struggle to get the desired result. Hence, we need to identify the gaps in content marketing. Some of the common gaps are:
Wrong keyword targeting
Not answering the questions asked by your target audience
The ranking technique can be improved.
10th Strategy: Win Over your Glossophobia
Glossophobia is the fear of public speaking. Speeches are content too. If you create videos with interesting insights and explanations with speeches for your audience, it will increase more engagement. For example, the popular digital marketing entrepreneur Neil Patel creates and publishes his speech videos on digital marketing tips. These videos have a wide reach and engagement considering the fact that a marketing expert is speaking himself.
Be the ONE for Content
So these are some of the proven content marketing strategies. All businesses can try these techniques to boost their content. The best thing about content marketing is that it doesn't need a great budget if you know your customers. Mindfulness plays a revolutionary role in content marketing. And some teams are ready to help you with an intelligent and mindfulness content marketing service
Get in touch with us for a result-driven AI-powered content marketing service.
About Applied AI Consulting
At AAIC, we help organizations get engaged with their customers with AI-powered quality content marketing services crafted to convert. We at Applied AI Consulting love processes, automation, and checklists. We are marketers who are still engineers at heart and approach digital marketing in the same way-the engineer's way - 'Make it lean, focused, efficient, and affordable'. For us, digital marketing is a combination of 'Art, Science, Psychology, and Engineering'.